Our Sustainability History
For more than a decade, Ayala Land remains to be at the forefront of embedding sustainability practices in all of its developments, products, and services. With sustainability as our guiding principle in enhancing land and enriching lives, we have not only created long-term value for our customers, investors and various stakeholders, but also contributed environmental, social and economic benefits for the public.
2007 
Sustainability was formalized as guiding principle to Ayala Land's brand of land use and development.
First sustainability report was published. The report followed the GRI (Global Reporting Initiative) G3 Reporting Guidelines.
Launch of BeneficiALI: Ayala Land Campaign for Sustainability
2008
The Ayala Land Sustainability Framework was created to serve as the company's sustainability-management mechanism for practicing land development more responsibly. The framework has five main pillars on which ALI built its strategies, targets, and programs for sustainability.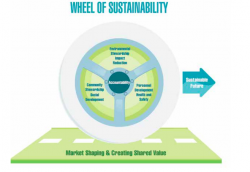 2009
A Board-Level Sustainability Committee was formally created and ratified by the Company's Board of Directors. The Committee was charged with two main functions: (1) oversee the Company's implementation of its overall sustainability program, and (2) ensure the Company's alignment with the Ayala Group Sustainable Development Policy.
2010
ALI reached major milestones in environmental stewardship such as LEED certification, Green Procurement Initiative, creation of energy solutions company PhilEnergy, and contribution to national green design metrics.
2011
BellaVita, the country's first social enterprise community development, was launched as ALI implemented a broader-based approach to growth and expansion through product lines for various segments of the economic pyramid.
2012
We progressed to A+ level reporting, with external assurance secured from TUV Rheinland. The externally assured report highlighted efforts to achieve the seamless assimilation of the Company's five principles of sustainability into the business process to become the bedrock of master-planning for future developments.
2013
ALI shifted from GRI 3.1 to GRI G4 reporting guidelines that emphasized disclosures on management approach (DMAs) as a means to benchmark its practices against global sustainability standards and helped Ayala Land with a methodology to identify its material sustainability concerns.
2014
The company transformed the sustainability framework from 5 Pillars to Four Focus Areas following our materiality process. These Four Focus Areas serve as measures to sustainability performance that provide a comprehensive discussion on how we embed sustainability in the way we conduct the business.
2016
ALI transitioned to Integrated Reporting using International Integrated Reporting Council (IIRC) framework to include reporting sustainability aspects alongside the financial metrics of our business units.
Ayala Land was listed as the only Philippine company in the Dow Jones Sustainability Index.
2017
Ayala Land announced an aggressive plan to reduce the greenhouse gas (GHG) emissions in its commercial properties and aims to be carbon neutral by 2022.  The company plans to achieve this through a combination of initiatives, which include passive cooling design, energy efficiency, renewable energy sourcing, and carbon offset mechanisms such as forest regeneration and protection.
Cited as one of the world's most sustainable companies by RobecoSAM's The Sustainability Yearbook.
2018
A year after announcing the carbon neutrality goal, Ayala Land has reduced the net emissions of its commercial properties by 62% through shifting its properties to clean energy sources and protecting and enhancing 560 hectares of carbon forests.
2019
To advance the company's waste management efforts and establish a circular waste system in its properties, Ayala Land opened the Arca South Ecohub built in partnership with Green Antz Builders. The Ecohub is a plastic processing facility made to collect and reuse discarded plastic materials and transform them into valuable resources for construction in ALI's developments.
2020
Ayala Land's rating on climate change disclosures in the Carbon Disclosure Project increased to A- (Leadership) from C (Awareness).
2o21
Ayala Land, as part of the Ayala Group, announced its commitment to achieve Net Zero by 2050.
Ayala Land achieved carbon neutrality in 2021, a year ahead of the target, subject to third-party verification.