Our 2018 Performance
As reflected in the results of our 2018 performance, we continue to advance sustainability initiatives in the way we do business to enhance land and enrich lives for more people.
---
Site Resilience
Biodiversity
301

hectares of green space

We have deliberately planned and allocated a total of 301 hectares of green space in 13 of our established and emerging estates. These spaces provide our household and workforce population in these estates with healthy spaces that promote social interaction.

68,901

native trees

We have recorded and planted a total of 68,901 trees of 67 native tree species in our established and emerging estates. These trees are planted along roads as part of the streetscape, or in parks and open spaces.

52

IUCN red-list species

After conducting biodiversity studies in Lio, El Nido, and Anvaya, Bataan, we recorded and protected 52 IUCN red-list species in 2018. These include the critically endangered hawksbill turtle, and the endangered endemic species Balabac mouse deer and red-headed flameback.
Pedestrian Mobility and Transit Connectivity
20

P2P routes

We have a provided total of 20 P2P routes and 13 P2P terminals in our malls and estates, improving the commuting experience and transit connectivity for an average of 14,593 commuters daily.

7

new urban patios in Makati CBD

We added seven (7) urban patios with 350 sq. meters of catchment areas for a more pleasant pedestrian experience for an average of 1.9 million people daily.
Eco-Efficiency
Materials
22%

reduction in consumption

Due to the varying amounts of materials required by the different phases of construction and the repurposing of fly ash generated from our concrete batching plants, our cement consumption decreased from 355,875 to 277,718 tonnes.

Energy
3.3M

kWh savings in offices & malls

Through investments in energy efficient technologies and operational adjustments to reduce consumption, our offices and malls have saved 3.3 million kWh of electricity, equivalent to PHP14 million in savings

Water
18%

reduction in  hotels' water intensity

Water intensity, expressed as cubic meter consumption per square meter of gross floor area, decreased by 18% and 13% in our hotels and offices respectively, due to conservation efforts including rainwater collection and the use of efficient fixtures.

Waste
22%

increase in waste generated

Our waste generation increased by 22% as we built more estates and further developed our properties. Initiatives to reduce and transform our waste into other uses have already started, and bold targets on waste diversion are being set for 2019.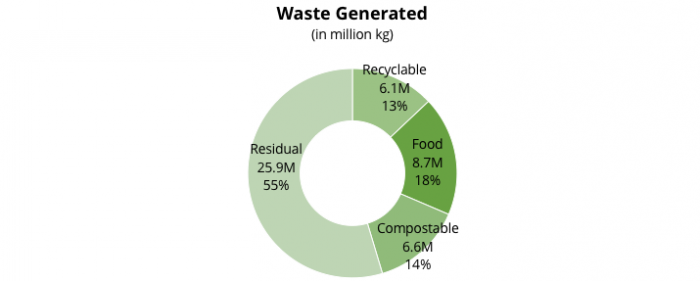 Emissions
32

malls & offices with clean energy source

Through power purchase agreements undertaken by our retail electricity suppliers, our malls and offices are able to source clean energy. As of 2018, we have shifted 32 properties with a total electricity consumption of 328 million kWh to clean energy sources such as geothermal, wind and solar power.

560

hectares of carbon forest

To offset our emissions, we have protected and enhanced our forests that store carbon. Total measured carbon stock in the forest in the year 2018 amounted to 82,090 t-CO2e.

62%

reduction in net GHG emissions

Through our carbon neutrality program, combined efforts to source clean energy and offset emissions through carbon forest protection and enhancement have resulted in 62% or 166-732 t-CO2e reduction in our commercial properties' net GHG emissions.
Local Economic Development
Employment
250K

jobs generated

We have employed 5,358 direct employees and 54,369 support staff in 2018, while tenants and merchants in our malls and offices have employed 189,893 workers, bringing a total of 249,620 jobs generated by our businesses.
Training and Education
135K

training hours

To ensure continuous professional development of our employees, Ayala Land and its subsidiaries conducted a total of 134,638 training hours in 2018. The average training hours for men was at 27.49, while average training hours for women was at 22.97.

5,064

graduates in MDC-TESDA program

Our partnership with TESDA (Technical Education and Skills Development Authority) that established TESDA-accredited training centers that develop construction-related skills and competencies produced 5,064 graduates in 2018, bringing the total number of graduates to 24,706 since the program's inception in 2014.
Local Communities
12

classrooms donated in Bulacan

To achieve its testament of being a socially responsible developer by giving back to every community it touches, Alveo Land donated 12 classrooms hat are compliant with the new Department of Education (DepEd) standards to the local community of Plaridel, Bulacan in 2018.