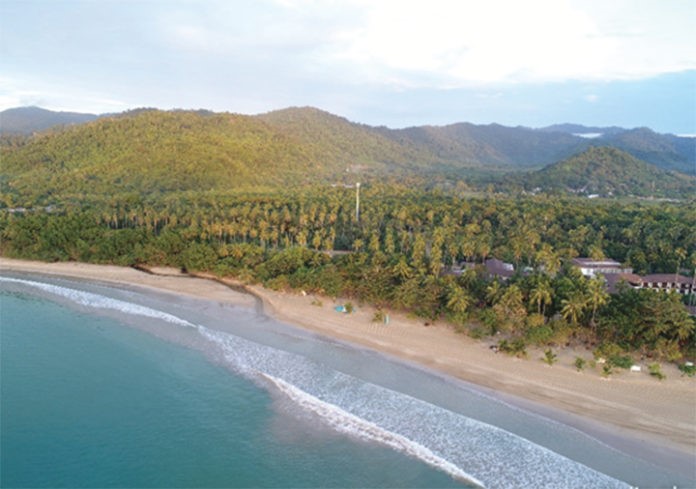 More than being a showcase of world-class hospitality and environmentally sustainable destination, Lio Beach in El Nido, Palawan, works with the local stakeholders and community partners in developing the estate as a model for inclusive growth in tourism, according to its planners.
AyalaLand, owner of the estate through wholly-owned subsidiary Ten Knots Philippines Inc., "realizes the significance of building a strong relationship with the local community," says Javi Hernandez, Ten Knots president. "As Lio Beach grows, we also hope to see the local community growing with us by providing supplies and services for visitors, locators and residents." The upward trajectory of tourist arrivals and emerging businesses in Lio Beach paves the way for greater employment potential and sustainable livelihood opportunities for the community.
"Currently, around 300 locals have been employed to operate the five resorts within Lio Beach and the estate," according to Hernandez. He estimates that as many as 3,000 jobs will be generated and sourced locally from Lio's construction and operations upon full build-out, not to mention indirect benefits brought to the local economy.
In line with the socio-development objectives, Ten Knots and Ayala Foundation have embarked on a five-year project to foster inclusive growth by linking programs to develop local workers and entrepreneurs to the supply chain of Lio Beach, not just for its hotels, but also for retailers and locators.
The rice served in the hotels and resorts, for instance, is bought solely from farmers from Narra, Palawan, through the Corporate Rice Program in partnership with the Department of Agriculture. Due to its success, the Corporate Vegetable Program was created to assist 25 local farmers to provide different types of vegetables and, eventually, even livestock and more seafood. Since the onset of the program in October 2018, an estimated total of P1.1 million worth of vegetables have been sourced from the farmers, adding to the estimated annual seafood purchase of P20 million from other local suppliers.
To add to that, small and medium enterprises run by women's cooperatives and other locals are given the opportunity to sell their products through the Taboan Public Market. One such example is the Juana Bayong brand featuring woven products by the Sibaltan Women Weavers Association Inc. They have also been given retail space in the market and at the Lio Airport Terminal.
With education playing a huge role in inclusive growth, selected primary levels in 14 pilot schools in El Nido have, likewise, been provided with learning tablets through the partnership with ProFuturo. An additional 10 schools in El Nido, plus 11 schools in Taytay will be given the same within the year. Teachers are given regular trainings and coaching sessions, thus making learning more visual and relevant with the digital age. To further aid in the success of the K to 12 program, graduates are given the opportunity to go through on-the-job trainings. More than 150 students have successfully completed the program so far, with opportunities for absorption given.
The growth of the local community alongside that of the estate will also be fostered by facilities not only for tourists, but also for employees, entrepreneurs and local residents. These include a church, public market, transport terminal, school and affordable housing facilities to be built in the near future.
Mabel Reyes, Lio Beach project development head points out, "We want to create a balance between facilities for the tourists and facilities for local residents. These are needed to create a healthy community. We fully realize that we need to keep attracting tourists, as well as residents for sustained growth."
Among real-estate developers in the Philippines, AyalaLand has the experience and know-how to create successful estates throughout the country, with the Makati Central Business District, Bonifacio Global City, and Nuvali as prime examples. Lio Beach is AyalaLand's first venture into tourism estate.
In 2014, Ten Knots began development of the 325-hectare Lio Tourism Estate, now more popularly known as Lio Beach, with the establishment of hotel accommodations and Shops@Lio. To secure ease of access, Ten Knots also prioritized the construction of the Lio Pier and the Lio Airport Terminal, with AirSWIFT providing direct flights from Manila, Clark, Cebu, Boracay, Puerto Princesa, Bohol and Busuanga to El Nido.
In 2018, AirSWIFT successfully transported 150,000 visitors to El Nido and is on track to meeting their target of flying in 200,000 passengers this year. The enhancement of the airport and additional flights do not only benefit the properties of Ten Knots, but provides direct flights for Palaweños and tourists staying in other resorts, as well.
"We are adding more nature-based activities and increasing visibility in town to actively highlight inclusive growth, and to entice more locals and tourists alike to make Lio Beach a part of their itinerary. Lio Beach is your place for rest, experience and discovery," says Reyes.
AyalaLand and Ten Knots continue to deliver on its promise of social development and inclusive growth in its sustainable tourism estate model that benefits local communities and Palawan as a whole.
Source: BusinessMirror