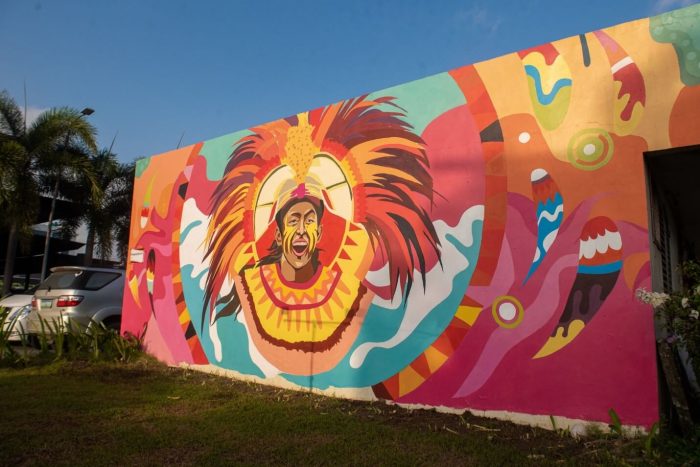 Dinagyang Warrior
Artist: Ronn Bulahan
ALL GREAT cities share one thing in common: they all have a strong sense of culture, history, and art.
It does not matter whether the city is a wealthy capital like Paris or Vienna or a developing center like Hanoi or Marrakech. All of the world's most-visited cities are known for their art and their ability to preserve and promote their heritage in new and exciting ways.
Such is the power of art to humanize our built environment and reconfigure our sense of space. Art can reinvigorate streetscapes, create a compelling local identity that gives residents pride of place, and ultimately transform mundane everyday locations into something vivid and grand.

Ayala Land and Public Art

Recognized as a leader in bringing Philippine modern art closer to the public, Ayala Land has been steadily growing a new public art program in one of its estates in the Visayas—the Atria Park District in Iloilo City.
With its solid reputation for building world-class developments across the Philippines, Ayala Land is also known for master-planning mixed-use spaces that put art and culture at the center of development.
The company's latest art campaign—Art at Atria—builds on Ayala Land's extensive experience in managing public art programs. These programs include the Bravo Filipino series of exhibitions and performances in 2008-2010, which brought Philippine music and literature to a larger audience outside traditional concert halls and academic spaces. Starting in 2013, Ayala Land also started mounting the yearly Art Fair Philippines. The company also continues to grow the Ayala Museum, now the country's leading private art and ethnographic museum which has been operating since the 1960s.
For its new art venture in Iloilo City, Ayala Land is once again highlighting the power of public art to create a distinct value proposition for the community—one that is rooted in Iloilo's proud artistic traditions and growing reputation as a vanguard of contemporary Philippine art in the Visayas.

What is Art at Atria?

Art at Atria is a public art program and platform for bringing contemporary art to alternative outdoor spaces, where the public can freely and easily view the artworks on display.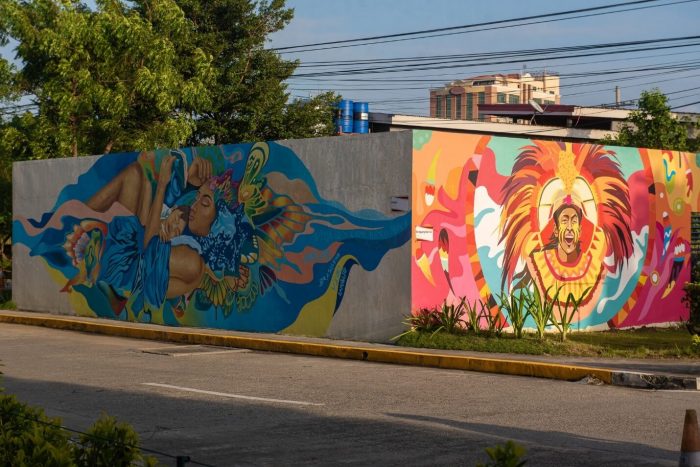 (Left) Hakus by Kristoffer Brasileno; (Right) Dinagyang Warrior by Ronn Bulahan
The program started in 2016 when Ayala Land partnered with the Visayas Islands Visual Arts Exhibition and Conference 2016 Iloilo (VIVA EXCON) to showcase the city's thriving visual art scene through murals commissioned for site-specific spaces.
With over 21 hectares of emerging mixed-use spaces, Atria Park District became an ideal 'public gallery or canvas' to showcase some of Iloilo's best muralists and painters.
A committee comprised of heads of major visual arts groups in the Visayas invited a select group of Iloilo-based artists to submit studies for specific spaces in the estate. The chosen studies were then fleshed out on blank walls, pump rooms, and cisterns in various parts of the development.
The first four murals were done by Kinno Florentino, Kristoffer Brasileño, Andrea Bagarinao, and Ronnyl Bulahan, who painted directly on their given sites. More murals were added in 2017, this time in collaboration with ScratchPaper Studios, an independent visual art collective.
Each work is on view for a minimum of two years and has been generously funded by private donors and art patrons.
Art at Atria seeks to inspire a more vibrant community by bringing contemporary art out of exclusive galleries and into the streets for a larger audience to enjoy at any time and any day of the week.
The program also complements Atria's position as a hub for young artistic minds, as the estate houses the Ateneo de Iloilo campus and is also a popular destination for the city's youth and creative groups.

Art Walk: A Self-guided tour of Atria's murals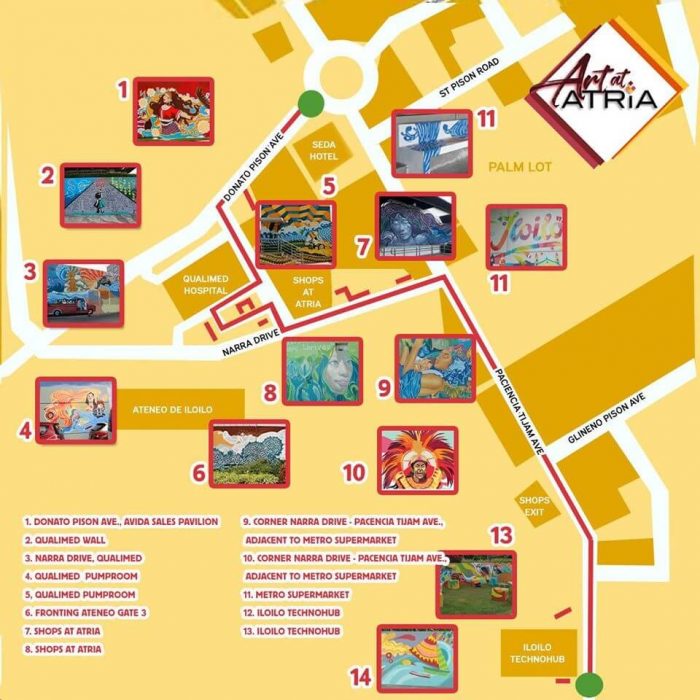 Atria Art Walk Map
The suggested walking tour itinerary is detailed in a handy map that is now available for download at
Atria Park District Facebook page
This self-guided tour begins at Donato Pison Avenue and takes viewers to a leisurely stroll around the estate where they can view the 13 murals now on display.
These murals include the works of Marrz Capananang, Jecko, AJ Lavilla, and Daryl Dalipe who have created a whimsical series of dreamscapes at The Shops at Atria.
A few hundred meters away, at the QualiMed building, are the works of Kyle Dominic Sarte and Jester Macabanti. Both works feature more traditional assemblages depicting tableaus based on Iloilo's streetscapes, religious icons, and institutional histories.
Also on display at Qualimed Wall is another work by AJ Lavilla that depicts children creating lovely graffiti-inspired sketches and doodles.

Iloilo's premier public art program

***
While still in its first years, Art at Atria seeks to sustain its rotating series of murals and expand into other forms of public art in the coming seasons. These forms may include conceptual art, performance, large-scale sculpture, lights and sound, and other emerging genres that creatively engage audiences in communal spaces.
"Public art does not only serve to beautify spaces or mark important moments in history, although this has been its traditional role in the past," explained Anne Climaco, one of the program's managers for Cebu Holdings and Ayala Land.
"Public art is now striking into more innovative directions, and so we want to capture this spirit by providing an effective platform that will inspire Iloilo's artists to pursue bolder and fresher forms of artistic expression," added Reynard Buga-ay, Atria's project development Manager.
According to the Atria Park District team, Art at Atria is also a way for Ayala Land and Cebu Holdings to extend its vision of cultural preservation and artistic excellence across the Visayas. Such artistic interventions can shake up city spaces and enable both locals and visitors to view cityscapes in new and memorable ways. "We seek to create programs for Atria Park District in the future that will do just that for our community here in Iloilo City," they said.
Atria Park District is an estate by Ayala Land, the Philippines' leading developer of sustainable estates offering a diverse mix of quality residential and commercial developments that support local economic growth.
To know more about Art at Atria and the latest developments at Atria Park District, please visit their page at https://www.facebook.com/AtriaParkDistrictOfficial/

By: Alex Gregorio