Enterprise Risk Management
Risk Management
As the Company continues its massive growth and expansion to various territories all over the country, the Company also maintains its commitment and adherence to the highest standards of corporate governance and risk management.
Alongside the growth of the business, the Company's risk management program had seen signifcant milestones in 2016, all geared towards ensuring that the Company can deliver on its 2020 vision while being fully cognizant of the risks that accompany such growth. Among such milestones is the full review of the risks previously identifed for each strategic business unit and integration of more efective strategies, controls and risk mitigation activities, as well as the establishment of Key Risk Indicators for all the major risks identifed and confronting the Company.
The Risk Committee played an integral role in ensuring that the Company exercises sound risk management practices and activities, consistent with its Board oversight function of reviewing and evaluating the adequacy and effectiveness of the Company's risk management activities and processes.
Two Risk Committee meetings were held in 2016 to review the results of the risk assessment done by the Chief Risk Ofcer (CRO), including the risks identifed, their impact or potential impact on the Company's business and the corresponding measures to address such risks.
To further underscore the Company's commitment to Risk Management and to guarantee its advancement to an integrated and systemic approach, the Company participated in the Ayala-group wide risk maturity external assessment conducted by Aon Global Risk Consulting. Aon has partnered with the Wharton School of the University of Pennsylvania to develop its Risk Maturity Index (RMI) and conduct joint research on the relationships between risk management practices and actual performance.
Te result of the external assessment shows the Company obtaining the highest score of 5.0 (Advanced) in the Aon RMI scale of 1-5. Advanced maturity, as defned in the scale, means that the Company has a well-developed ability to identify, measure, manage and monitor risks; our risk management processes are dynamic and adapt to changing risks and business cycles; risk and risk management information is explicitly considered in decision processes and is viewed as providing a competitive advantage with a focus on optimizing risk-reward trade-ofs. Tis result shows the Company outperforming the global average of 3.0 and the real estate industry benchmark of 3.0. Against internal benchmarks, the Company also leads the Ayala Group across all components. Similarly, the Company appeared to outperform the industry peers at all RMI components.
Te high rating is by no means signaling the Company's end to pursuing a higher level of risk management practice but will be used in moving forward to search for other opportunities to further improve on the management of risks, uphold a strong reputation for integrity and good corporate governance and to further create long-term value for its stakeholders.
The Risk Committee has specifically been created to support the Board in the performance of its oversight functions of the Company's risk management activities through continuous input, evaluation and feedback on the effectiveness of the Company's risk management process. This is a big step in ensuring that adequate focus and emphasis is given to the Company's risk management activities through periodic meetings and reports to the Risk Committee. Related to the creation of a separate Risk Committee, a new Risk Committee Charter was crafted and approved by the Board in 2014, which spells out the structure as well as the authority, roles and responsibilities of the Committee.
Enterprise-Wide Risk Management(EWRM) Activities
Te Company continues to implement its EWRM program and further works on enhancing its activities through periodic reviews with the strategic business units (SBU) and key support groups through a "top-down, bottom-up" approach. This approach enabled the Company to have full visibility of the wide range of risks that the Company is facing both from the perspective of Management and from the operational side of the business, fnding commonalities and disparities, and integrating both perspectives to arrive at a holistic view of the Company's risk profile.
Risk Management
Facilitated risk review and control assessment sessions with each of the Company's strategic business units were conducted. Te outcomes of these facilitated sessions, which included identifcation of key risks both at the Company level and at each of the business units, as well as control processes, strategies and improvement plans to mitigate the key risks identifed, were presented and communicated in separate meetings to the Management Committee and the Risk Committee for review and evaluation.
To ensure efectiveness, key risk indicators and metrics previously identifed and established for each risk have also been reviewed in 2016 to adapt to the changing needs of each business and to validate the appropriateness of the use of each metric as an indicator of the risk and the efectiveness of the risk mitigation activities of the strategic business units and of the Company as a whole.
With the key risk areas and key risk mitigation strategies across the Company identifed, monitored and periodically reported on, business decisions are able to consider and incorporate the following:
• New and emerging risks, both at the Company and at the operating business unit level
• Changes in risk outlook and assessment
• Changes in the status of key risk indicators
In 2015, a cross-functional risk assessment was undertaken with the Company's Management Committee as a collegial body to validate the risks identified at each SBU level and those shared by multiple units and ensure that the risk priorities and mitigation activities across the organization are relevant and current with respect to the Company's business objectives and strategies.
Likewise, as part of the initiative to ensure that the Company's risk management activities are at par with industry standards or best practices, a reputable external auditing company, SGV & Co. (SGV), was tapped to determine the appropriateness in approach and maturity level of the Company's risk management program. This activity helped identify improvement opportunities and provide recommendations to address the gaps between the Company's current risk maturity levels and its desired levels based on global benchmarks and models.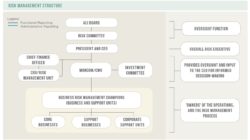 Based on the independent validation conducted, SGV assessed the Company's risk management program to be within the following levels:
• In Governance and Organization aspects, Ayala Land's program is at the strategic level (highest), with risk management values and mission clearly communicated throughout the organization and with "Tone at the Top" that extends beyond the organization to key external stakeholders
• In the aspects of Risk Strategy, Reporting, Culture and Communication, Ayala Land is at the operational level, which means policies and processes are institutionalized and consistently applied in the company, but with room for further improvement.
Various activities have since been done to elevate the Company's risk maturity level to its desired state. One of the major activities conducted to improve the Company's culture and capability is the conduct of Ayala Land's first Governance, Risk and Compliance Summit.
   Ayala Land's First Governance, Risk Management and Compliance Summit held last November 2014
(Left to Right) Project Coordinator for Integrity Initiative and Special Projects Unit Manager of the Makati Business Club, Mr. Jose Cortez, ALI CFO Mr. Jaime Ysmael, Mr. Antonino Aquino of ALI Audit Committee, ICD President Mr. Ricardo Jacinto, ALI President and CEO Mr. Bernard Vincent Dy, ALI Audit Committee Chairman Mr. Jaime Laya, UEMG, KL Head of Internal Audit Mr. Steven Lim, ALI Chief Audit Executive Mr. Leo Abot and ALI Chief Risk Officer Mr. Maphi Tandoc
This will be a periodic activity to ensure continuing education for key personnel and employees on their risk management roles and to help in promoting a risk-aware culture within the Company.
Business Continuity Management (BCM)
As a major risk management strategy of the company, the BCM program has consistently been given special focus, with a great deal of planning done at SBU levels to ensure critical services or business operations continue in spite of disaster occurrences based on loss scenarios and a methodology conforming to global standards and at par with best practices.
An important aspect in the BCM program which the company also focused on was in the area of Crisis Communications. In 2014, localized Crisis Management teams have been formed and oriented to handle different levels of crisis events. Trainings, workshops, as well as desktop and actual drills were conducted as part of the training program with serious attention to at least 22business units which included major malls deemed to be highly probable and prime locations for crisis handling.
Learnings from past events said training activities were then gathered and consolidated for future consideration and reference.
Establishment of the Company's Occupational Safety and Health (OSH) Program
In 2014, the Company has established its central OSH Committee to enhance Ayala Land's safety program at a brand level. The Committee was primarily intended to ensure both regulatory compliance and improvement of the Company's performance on safety, as well as protecting the health of its most valuable asset–its people.
As a major start, an overall Ayala Land Corporate OSH Program has been drafted and cascaded for development to the Company's subsidiaries for program alignment and standardization. This OSH program was developed in accordance with the framework of occupational safety and health management which the Department of Labor and Employment (DOLE) of the Philippines through
its Bureau of Working Conditions (BWC) is regulating and driving.
To achieve the Company's objectives in safety and health management, the Company's management shall ensure that programs and actions are in place and are being done religiously via the following;
• Ensuring that all employees and engaged workers (including contracted workers) receive proper orientation and needed training onwork and workplace safety before and during their employment or service engagement and as deemed necessary, based on the nature or gravity of the hazard/s in the workplace or activity.
• Putting in place a continuing communications program to keep the level of awareness on occupational safety and health of all employees and contracted workers high, eliminating complacency in job execution and keeping abreast with latest development and learning related to preventing occupational injury and illness and enhancing wellness promotion.
• Providing a system to properly assess, screen and detect workers psycho-physical state, capability and limitations in performing work safely and efficiently before employment or work engagement as well as to effectively monitor employees health and well being with respect to work and workplace hazard or exposures.
• Establishing and consistently enforcing a system of motivating positive attitude and recognizing proper behavior towards contributing to safe work conduct, good health protection and maintenance in all workplaces as well as penalizing improper work behavior or negligent action resulting to occupational injury and/or illness.
• Ensuring that all workplace hazards are proactively and continuously identified and that needed reasonable corrective measures are inplace to prevent or control physical, biological, ergonomic and chemical hazards existing in all work areas or those which are developed as a result of operations or day-to-day activities.
To further promote and effectively ensure adherence to the belief and aspirations of the Company towards occupational safety and health, management shall integrate accident prevention and occupational health maintenance in evaluating the performance of bothbusiness and support units. OSH performance shall also be a regular item to be monitored and reported in the Risk Committee meetings and a regular agenda item in the regular Safety Council meetings.